So there we were bimbling along down towards Lorient, to have look in some reclamation yards for some interesting doors for the interior, especially the kitchen.
I had done some searching on the net and identified 5 possible sites along the route.
The first one was closed when we arrived, (despite the info on the website saying it was open) and we were then told it only opens once week, on different days of each week, and at different times of each day. I would be open at some stage but they couldn't tell us what day it would be, except that today wasn't it.
Ah well we didn't give a toss because we were just happy to be in the truck together off on an exploration so decided to leave the other one in Vannes alone and set of towards Lorient.
After about 10 miles I saw a sign of a village name I recognised and mentioned to MrsB that it was where there was some sort of nautical antiques place, which to quote me "Was bound to be expensive full of old crap where they expect you to pay 300 euros for a picture of light house etc etc."
As we were driving past anyway it seemed churlish not to pop in and have a look, so we found the place and parked round the side of the building.
We had peak in through the windows and I knew I was in trouble.
Big trouble,
Big Big trouble, as in how much have I got stashed and available on plastic trouble!!!
Just looking at tiny segment of stuff through the window was enough for both of us to be completely gobsmacked just feasting our eyes on some of the most amazing nautical items of furniture and curios I have seen outside of a ship.
I mean treasure trove, died and gone to old sea dog heaven gobsmacked!!
It only became worse from then on as leaning up inside the entrance were two mahogany/teak ships doors, one with a round porthole and one with square one, complete with their mahogany/teak frames.
I have walked though our kitchen doors thousands of times, I have sat and looked at then wondering if I should just make doors to fit or would we one day find the doors to fit, so I knew the size we wanted it is almost imprinted on my retina, and these doors were waiting for us right there.
I didn't really need to use the tape measure, although I did measure them about 20 times just to make sure.
MrsB could sense my excitement and shared my enthusiasm that here were the doors we have been looking for, for over 5 years.
My total attention was drawn to the doors so I really hadn't noticed we were still in the vestibule and on the threshold of what I will happily describe as the best shop I have ever been in.
Never have I been so completely bowled over by one item after another, be it beautiful old ships chart tables, or a captains bureau, or the big brass side lights, or massive brass working telegraphs, or an officers saloon dining table complete with baffles, or the deck recliners from passenger ships, and portholes, and bridge windows, and more doors, and more items of nautical equipment and fittings all taken from ships built before 1960. Brass and hard wood and exquisite craftsmanship.
We also spotted some wonderful art deco style dining chairs taken from a ships dining room and ,,, well we have been looking for some chairs for the kitchen and so they ended up in the trolley and then we spotted a row of three theatre seats taken again from the events room of an old passenger vessel that had been re covered in white canvas and were coincidently the same length as our kitchen table and would be perfect for us to have against the wall behind the table when it was just us two but when guests come there are three seats ready to go once the table was pulled out.
Kid in a sweet shop would not even come close to describe how I adore this shop.
http://www.talaos-antiquites.fr/
Here is the door though to the backtofront room and it slotted straight into place with just a tiny shave of wood having to come out of the gap
As you can see we haven't finished the fitting, with some profiling to do along the edges and a triangular fan light above still to go but it gives you an idea of the door (better photos to follow)
This photo makes it look wonky because of all the stuffing around the edge waiting for me to do the profiling properly but it gives you an idea of how good it will look
But this one fitted on the frame inside the scullery and,,,,, well just look at it yourself, it was made to go there./
Here are the chairs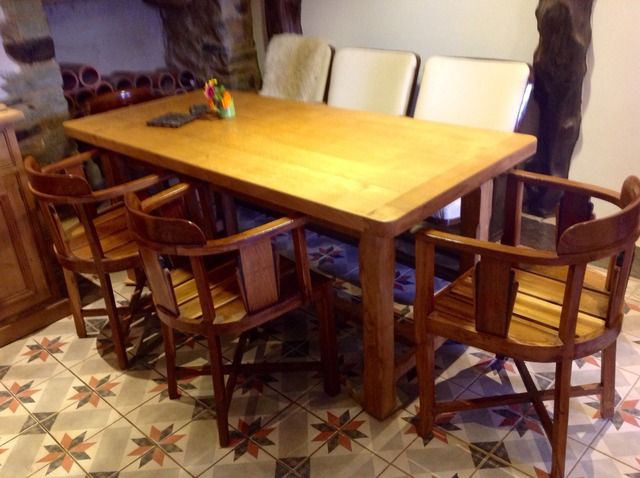 and here are the theatre seats
So happy Bentleys and with some tidying up round the edges of the doors etc they will look even more awesome.
Love and Peace
Bentley