Aye Aye Landlubbers,
This is the story of the shower tray.
If you are not up for a long read then the condensed version is
"Bought shower tray online. Collected it. Put it upstairs ready to install."
The longer and wider ranging story is as follows:-
One of the main reason we built the sheds was so that we would be warm and dry and clean at the end of a day's graft. At the time we had no idea how homely and "amazingly fit" for purpose they would be, but anyone who has stayed with us will confirm that the sheds are mighty.
YeeHaw trebles up as a kitchen, shower and guest room, and for the last 7 years this has been our shower.
http://s827.photobucket.com/albums/zz192/Ruzticbentley/DSCF4109_zps39436d8b.mp4.html
That one large saucepan of water is enough for a good cleansing shower and the method is simplicity itself.
Heat the saucepan of water.
When water reaches the desired temperature place the big saucepan on top of the other one and pop in the pump (12 volt bilge pump from a shipping chandlers shop 15 quid)
Get naked and get in (or, if you are prudish, get in and get naked)
Turn on shower and get hair and body wet.
Turn off shower.
Soap and shampoo yourself up.
Turn on shower and rinse for about two minutes.
Emerge to take warm fluffy dry towels off of radiator.
The dimensions of the shower are 1100 x 1100 and when we designed the main bathroom the shower was always going to be at least 1100mm wide and about as long as it needed to be to suit the space and getting on for 2 meters was what we had our eye on.
I can't stand piddly little showers that can only just about take one person, or that have been shoved into spaces not quite big enough, as you often find with "en suites". I find that with piddly little showers I am always knocking my elbows every time I turn around, or if the soap is dropped your arse ends up pushing the door open or hanging out into the cold when you bend down to get it. Even worse is the piddly little shower combined with a shower curtain (aaarrgh) that with even the slightest contact results in it stuck to you requiring the slightly queasy process of peeling it off. So as you may have guessed I like a "big" shower.
We had dismissed the idea of "en suite' in the very beginning of the design process Ask yourself, "what is an ensuite anyway"? other than a wife's own private bathroom, normally installed at the expense of space in the bedroom. If you don't believe me then check out how much more spacious you bedroom would be without the ensuite (especially In a smaller property) also check out the sort of reception you get if when "sharing" the en suite you decide to "coil one down" first thing in the morning just before your wife or girlfriend (or husband) goes in for a shower or to brush their teeth. IMO one of the golden rules for harmonious co-habitation is to never have toilet in the same room as a shower/bath, and if you are going to have a "his and hers" anything then don't fuck about with poncy double sink units (are you ever really likely to stand next to each other as you brush teeth, shave, apply makeup, scratch bollocks squeeze sports etc) but do make sure you have two bogs.
I am fully aware that some would argue that you can only use the space you have, but I think that is feeble bollocks as far as justifications go and I would counter with "spend some quality time thinking or planning and come up with better design".
Ok I admit that maybe I am being a little bit unfair and uncompromising, and perhaps there are some people who like bashing their elbows and knees and having to touch the cold walls when they shower, but I am not one of them, I also don't like the flimsy feel of plastic shower trays.
So we have always had in our minds a big shower cubicle with a solid base and an easy to use control and a mighty torrent of water when it's running.
We arrived at the required dimensions of 1100mm wide x 1810mm long, due to the placement of the studwork inside the walls (for fixation of the glass block wall that will form one side), and our idea of the general dimension of the bathroom, ie how it looked when we laid it out with a mock wooden framework as a practice indication of how it existed in the space, how close to the door it would be, how the lights worked in it, and how it worked in cohesion with the bath and proposed sink in terms of scale and placement etc. On a separate issue, the plug hole needed to be placed exactly where we wanted it due to the position of floor joists below, which is 200mm from the end and 550 in from the side.
We searched over 5 years in every brico shed and bathroom showroom, not only in France but also when we were in UK, for a robust shower tray, preferably in ceramic, but drew a blank. We had one sniff of a possibility about 6 months ago when I saw the sort of rigid re-enforced foam templates that you tile yourself when installed, however we couldn't find anyone who would make one where the plug hole was in the right place for us. In fact one chap went so far as to say that they should really only be used on a concrete base downstairs (although why eludes me). PointP also had on display a resin based stone look-a-like tray that could be made to the right dimensions but the plug hole would still be in the wrong place. Laypeyre was the same story as with everyone else
It should be noted that the bathroom floor is 18mm marine ply doubled up (ie 36mm thick) and cross laid on joists between 250 and 300 screwed every 250mm. It isn't moving anywhere.
Eventually with a deadline to get the bathroom fitted and operative by November this year we searched online for bespoke shower trays. We had three hits and duly e-mailed out the dimensions of what we wanted.
One reply came back from this outfit who make trays out of a resin product. First they make a mould (any shape any dimension) and then pour the resin. They do specialist jobs for super yachts etc and prices started at about 3,000 pounds. (eeeeeek)
One didn't respond to our inquiry, and then we had a mail back from Alexander MacKintosh from Birmingham who suggested we gave him ring to discuss the shower tray.
What a lovely chap he was, calmly explaining that the size we wanted would be no problem but that it didn't need to be "all "tray". The first bit would be what's known (in shower tray parlance) as a "lead in" which has grooves in it, like a draining board, and then the tray. He sent us a diagram and a quote to make it out of quartz-stone or marble but he recommended the quartz stone as a better product for what we wanted. 1500 quid including the VAT. For a bespoke piece that will look splendid in situation we didn't consider it to be over the top, so we ordered it for collection in mid March and paid 750 quid deposit. Decision made. Job done.
At the same time we had been looking for some unusual bathroom floor tiles and had decided on something like the old Moroccan or Victorian patterned style but couldn't find anything that caught our eye. MrsB was having a browse on the webnet and found an interesting mosaic of old style patterns laid in a random configuration, which now I read this back sounds a bit whacky, but is actually going to be very groovy when laid. Probably not everyone's cup of tea but then again they don't have to be because they are ours, and they float our boat.
Here is an idea of what to expect. (as an aside you can also see the waterproof coating between the two layers of marine ply.
They are just laid out roughly in these photos to give an idea of the effect, and when in place they have a 1mm spacer gap and a special coloured grout that goes with them.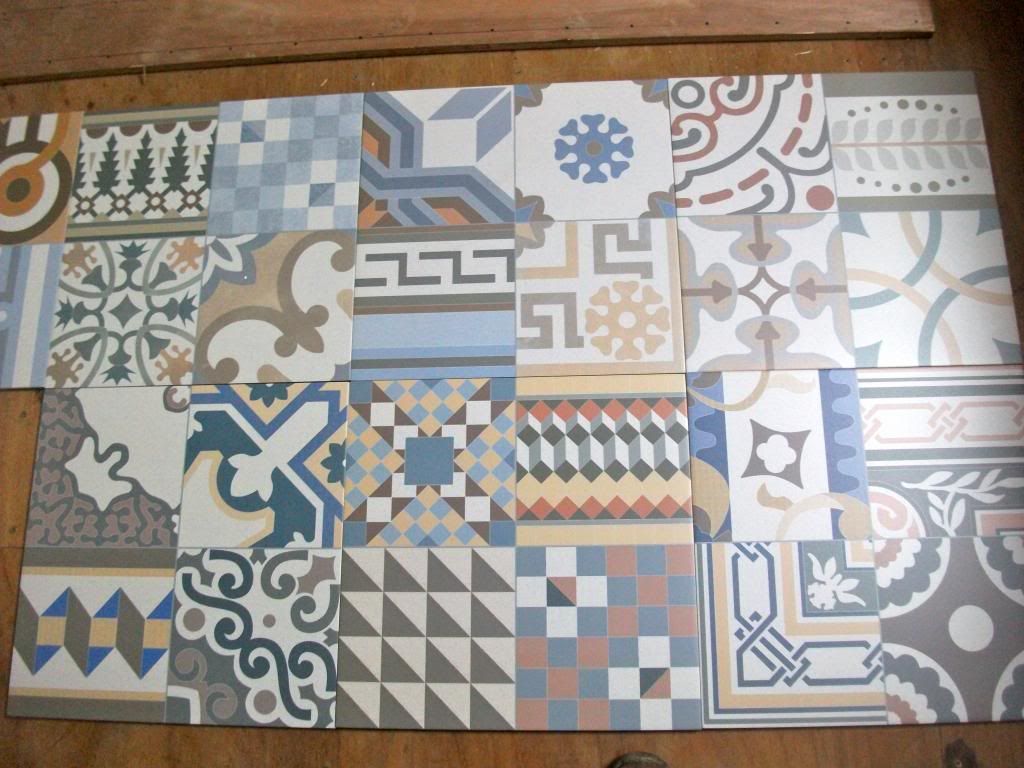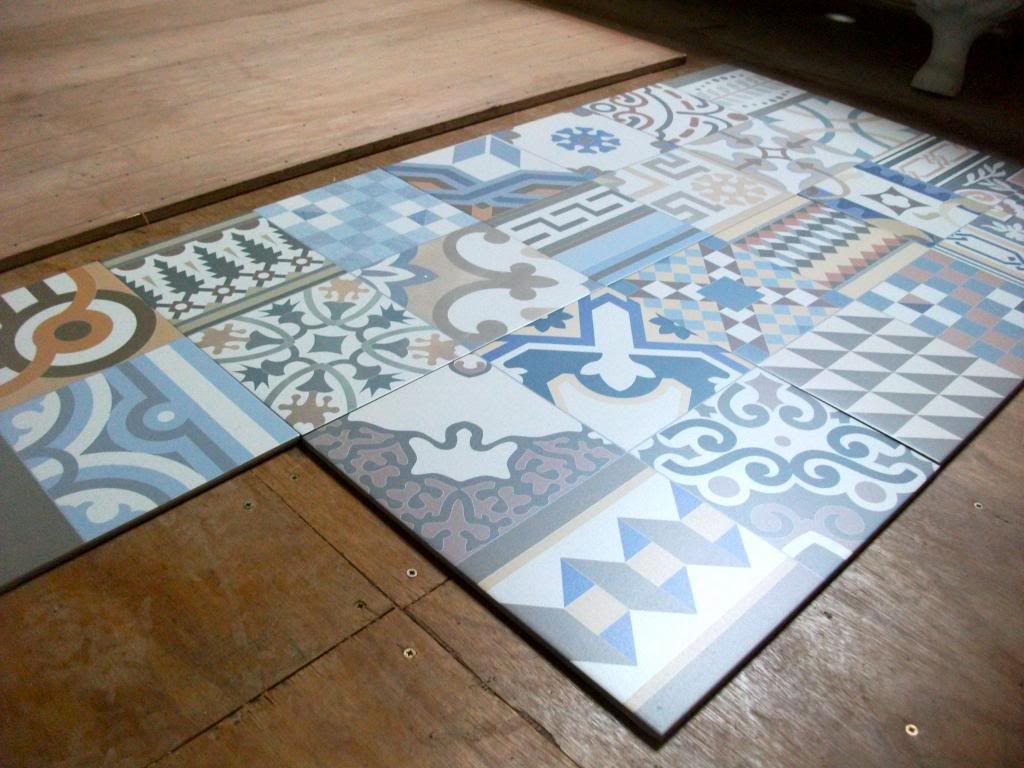 They were available from a tile manufacturer in Kettering which I figured was about the same distance "ooop north" as Brum so we ordered and paid for them online and I arranged to collect them on the same day as the shower tray.
LOGISTICS (Bentley style).
I was considering buying a new pick-up truck and with the old one coming close to the end of its MOT I decided to combine getting that done (to enhance its re-sale value) along with picking up the shower tray, tiles and stocking up on other hardware. I had measured the back of the truck and had 1155 mm between the wheel arches so the tray should slide in sweetly albeit with the tailgate being open. No problems.
I took the overnight ferry on Wednesday from Caen to Pompey, drove down to Bridport to Dorset Vehicle Rentals where I did the paper work for hiring a transit and then dropped my pick-up for its MOTat Scruffs. (an old mate of mine whose garage has looked after all my vehicles for several years).
I had some pottering about to do for the rest of the day including stocking up on all sorts of goodies from the Bridport Building Supplies (the builders merchants I use in UK).
This included two bags of "tanking slurry" (which will be mentioned in another post) screws nails and assorted hardware likely to come in handy.
I had booked into my favourite pub for B&B that night, spent an early evening in there and took an early night ready to be off with the lark in the morning for my run to Brum.
Other organized activities that I had factored into the trip included a blood test on the Monday morning at the health clinic to check out my sugar levels because a routine job related medical in Malaysia had picked up spike in my levels. This meant fasting for most of Sunday. l also had my annual seafarers medical booked for Southampton at 4 pm on Monday and the overnight ferry to St Malo at 8pm.
I had also arranged for Saturday afternoon to take my daughter MissB for a "Waggamamas" lunch in Dorchester before she headed back up to London after a visit to Bridport.
So there I was "SORTED' (an anagram of Dorset) and ready for my mission.
It is about 50 a minute plod from Bridport through the lanes up to Taunton and then onto the M5. It is about another 2 and half hours to Brum. I set off at about 7.15. and stopped for a coffee and sarnie up past Gloucester.
I'd had a brainwave on the way up and took the opportunity to call a comedian mate of mine, Paul B Edwards, who lives in Letchworth. I had realised that because Ketteirng was just a bit "ooopp north" from him, I could work on the principle that if he wasn't gigging he would, be right up for going out on the lash and I could doss at his place for the night. If not I would just trundle back to Bridport on the Friday afternoon and go out for a few beers there.
When PBE answered the phone I asked if he was about and fancied a pint and he said "Yes I am about. Yes I do fancy a pint, but more to the point do you fancy doing a gig because it's my Hitchen shows 20th anniversary gig tonight and I would love you on the bill."?
"Oh Yes I do" says I "See you later this afternoon"
While I finished my coffee ,made a quick set list for the gig so I could rehearse a bit when I was driving, and then the set off towards Brum arriving at Alexander MacIntosh's showroom / workshop at about half 10. (Thanks Tom Tom for taking me to the door)
Tucked away on an industrial site up near the airport I thought at first glance that it was just a workshop, but I was absolutely gobsmacked at the huge showroom and the quite magnificent display of fine quality marble and natural stone tiles on display. When you look at the front of the building there is no indication to the marvelous treasures hidden inside. If you are looking for something a bit special then check it out but IMO the website photos don't do the showroom, or the quality of product on show, justice. www.alistairmackintosh.co.uk.
On arrival he showed me out the back to the workshop where the shower tray was sat in its glory. To say I was as chuffed as nuts with it would be close to the truth, and in the flesh it looked much bigger than I expected, even though we had chosen the measurements. He took me back to the showroom while he sorted the paperwork and I had a good mooch about collecting ideas for the next project and marveling at the stuff on display and how it was displayed.
I paid the owing amount and we had a quick chat about him making me a one off marble or quartz stone piece that would surround our sink (see previous post) and also act as draining board, but he said because of the waste involved it would be cost prohibitive and we would be better off speaking to a stone kitchen worktop supplier. I thanked him for is candour (and the wonderful job they had done on the tray) and then took the hired transit van round to the loading bay.
This is where a small spanner was thrown into my works because they told me it was not possible to transport the tray "flat", it has to be transported on its side or it will crack. I was in the transit so no problem as far as transporting it goes "but" I did notice (and filed away under 'sort out later plan b c and d) that it was a major struggle for the "three" of us to get the thing into the van. Once in we then packed it out with polystyrene to keep it secure. It probably weighs close to 200 kilos. I only had two ratchet straps with me but with some fancy rigging I managed to secure the load, upright against one wall of the transit and off I went in the direction of Kettering.
I stopped after about 5 miles and 8 roundabouts (tense and listening for odd "cracking" noises as I negotiated them) just to check the load was OK (as it was) and arrived in Kettering about an hour later and picked up the tiles from the massive manufacturing plant on the outskirts. Just opposite was a Tool sales place so after procuring a couple more ratchet straps (and some flappy paddle sanding discs and some other bits and pieces. (Well it's a tool place innit? )) I then "double lashed" the tray and set off in the direction of Letchworth.
I arrived mid-afternoon and we set about the business of catching up with our latest gossip after about 4 years of not seeing each other (those of you who like punk music may like to catch his superb long running podcast on www.punkyradio.com) We then got ready for the gig and off we went. Suffice to say the gig went very well and it was a good buzz to be back on stage, microphone in hand, making people laugh. One very pleasant surprise after the gig was that although I had told him I didn't want paying he slapped a healthy wad of cash in my hand. Top geezer, although he knows I would have done it for the laugh anyway. After the show we set off on an extended laughter and conversation filled pub crawl of the late night drinking haunts in Hitchen. I finally crawled into my pit at about 4ish and slept until about 10.
We had said cheerio the night before as I had to be away early to meet MissB for lunch in Waggamamas in Dorchester abefore she headed back by train back to the Big Smoke. I had a quick teeth brush and cold water sploosh, grabbed my bag and was out the door. As I was setting myself up in the van (feeling a tad "peaky if I am honest") when the phone rang and it was MissB telling me not to worry about getting back for 2pm as she was staying the night in Bridport so we could go out for dinner instead. Bloody hell!! I could have had another 3 or 4 hours in my scratcher, but as I was up (and now locked out by the security gate) I thought I would just grab a coffee at the first petrol station and plod on. (A fortuitous decision as it turns out)
I was flagging a bit by the time I made it to Fleet services on the M3 so I stopped for brunch, more coffee and made my way back to Bridport, via Dorset Reclamation in Bere Regis where I bought some old decorative ridge tiles to cap a flower border wall that MrsB was intending to build (see a previous post)
Feeling rather pleased with myself (if not little jaded) at the successful nature of my mission I arrived back in Bridport at about 2.30pm.
My nephew was staying at my mother in law's and had agreed to give me hand to transfer the shower tray from the transit to my pick up. Once I opened the back of the transit he took one look at the shower tray and said "It isn't going to fit" which confirmed the niggling doubt I had been ignoring for the last 24 hours and sure enough the back of my pick-up is only 900 high and the tray is 1100, and as I had been told there was no way of transporting the tray flat or at an angle I now was the unwilling owner of a 200+ kilo, 2 square meter problem. Oh BOLLOCKS!!
So time for some quick solution focused thinking and onto plan B (or C or D if required)
I now needed to hire the transit for another three days to let me take it to France on the Monday night, ferry back to blighty on the Tuesday night from Caen, then back on the overnight to St Malo Wednesday night to France with my truck "Unless" I could convince my nephew or daughter to come and drive the Transit over on the Monday night and come back Tuesday night, but both were working.
My son had just finished filming on feature film so I called him and asked if he fancied a little jaunt to La Belle France and as ever he was right up for it so I arranged to pick him up from Dorchester station on the Monday lunchtime ready for the trip that night.
He then asked if it would be alright to bring his new girlfriend along for the trip which I could hardly say no to. It meant I had to book an extra cabin because I am sure she might have freaked out a little at having her boyfriend's dad sharing a cabin with them.
It would cost me the overnight fare for the van (and extra cabin) to St Malo and then Caen to Pompey with van and cabin on the Tuesday night. Ok so it was an 480 quid of extra expense ()plus dinner for three) I hadn't planned for but I wasn't going to risk 1500 quids worth of shower tray for the sake of scrimping and trying to shove it in the pick-up and 'hoping' for the best.
I nipped into the hire place to finalise the details with them but it was shut ()slight rise in stress level) however I called the head office who said that we would have to change vans for a newer one, but to pop in Monday and all would be OK. (lowering of stress level) The good news being that as I already had paid for 4 days it was the same price as if I had hired it for a week and as I was a fairly regular customer (and he used to come to the comedy) it would only cost an extra 20 quid for the Europe insurance cover. Happy days for stress level.
The other good news was that the pick-up truck had passed its MOT (albeit with new wheel bearing). During the trip I had pondered long and hard the pros and cons of a new pick-up truck but had decided not to spend a load of money on a new one as we still have the second project to complete and the truck will definitely get bashed up.
Why not just continue bashing up the one I have as opposed to bashing up new one. IMO it is pointless owning a pick up if you are going to get all lah de dah precious about bumps and scrapes and making the inside a bit dirty. This change of heart would mean registering it in France, which apart from some minor bureaucratic hiccups on our part passed off smoothly enough (it is now "Le" pick-up on French plates) and I save over 350 quid a year on the insurance. (lovely jubbly)
So what ensued was an enjoyable few beers and nosebag with MissB on Saturday, followed by a booze free fasting day on Sunday, blood test early Monday morning, then off to pick up MasterB and his girlfriend to do the paperwork for the transit and change vans.
It was at this "van change" time with the vans parked back to back with the doors open, and as my son and I tried to shimmy the shower tray between vans (which isn't as perverted as it sounds), we realized that there was (to use my own words) "not one flying fuck of chance that we would be able to maneuver that heavy bastard up the stairs without breaking it, or us, or both" I decided we would worry about that after we had arrived at the house but already had in my mind to hire manitu and send it in though the office window.
After securing the load in the new van I shot off in my pick up to Southampton for my medical and said we would meet in the bar on the ferry. The medical went without a hitch and we actually met just before boarding, we checked the load was good and on we went.
A nice big posh dinner in the A le carte followed by a few drinks watching the singer croon his stuff and (for me at least) a well deserved early night.
I set off to the house first followed an hour later by Master B as he wanted to take his girlfriend for a coffee in the "Freaky Dolls" bar in St Malo. If you have never been, the bar stools are swings, and the toilets are disguised as an old wooden hotel phone booth and there are thousands of dolls covering every square inch of space, and a magnificent ard deco odd light fitting. Check it out if ever you fancy a drink or a coffee in unusual setting in the ever lovely St Malo walled town.
I nipped into Ploermel to hire a Manitu but Locormor (my usual place) didn't have one so I nipped round to Loxam who said they had one but rather than deliver it would cheaper for me to just drive it as it was only about 18 kilometers. All fine and dandy but as I hit the open road I realised two things No1 I should have had ear defenders No2 15KPH was flat out.
Ah well I arrived home mid-afternoon after a rather uncomfortable drive where I was even over taken by 4 old blokes on push bikes. I then secured (with ratchet straps) a few scaffold planks to the prongs of the Mainitu to create a solid platform and then nailed piece of wood to that which helped hold the wood together and also would act as a stop for the tray to lean up against when we lifted it to the office window.
The first job was to do a risk assessment of the process in which it was decided that zak would ride the tray up to the window so first we needed a practice run.
Then remove the balcony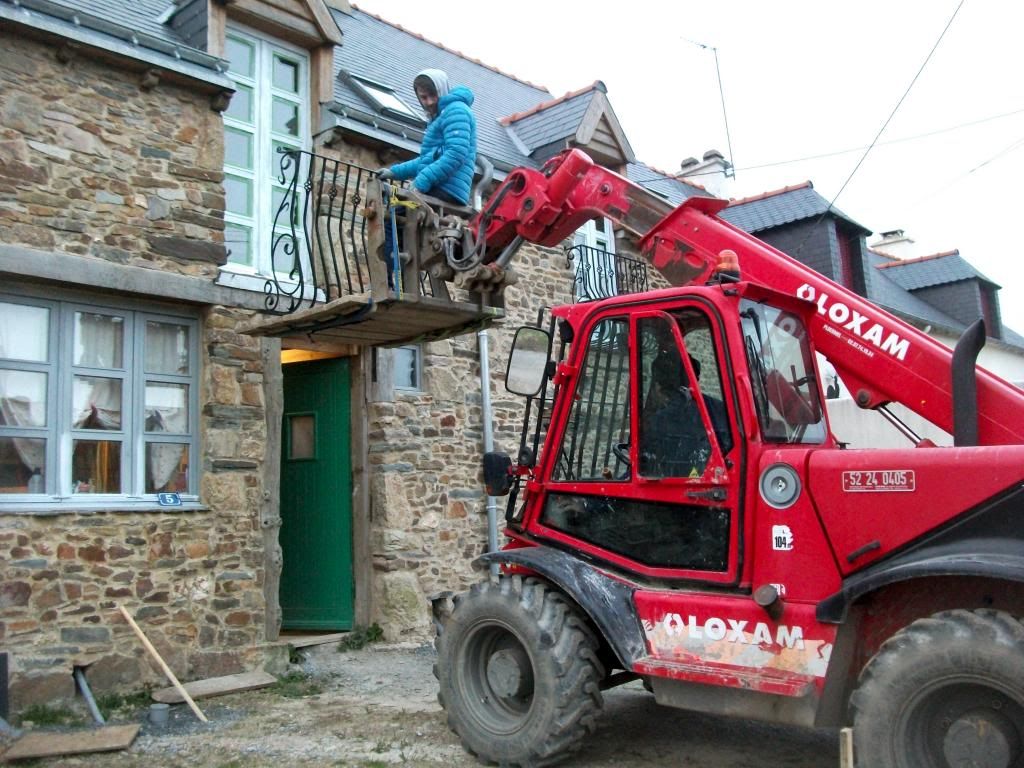 Lift the tray out of the van and get it balanced on the manitu platform.
Had it been another 10cms longer it would have over balanced but we now had it so that the tray was stopped at the bottom and it was easy for MasterB to maintain his balance using the weight of the tray as stability.
Then with hand and shouted signals down to me guide me into the office window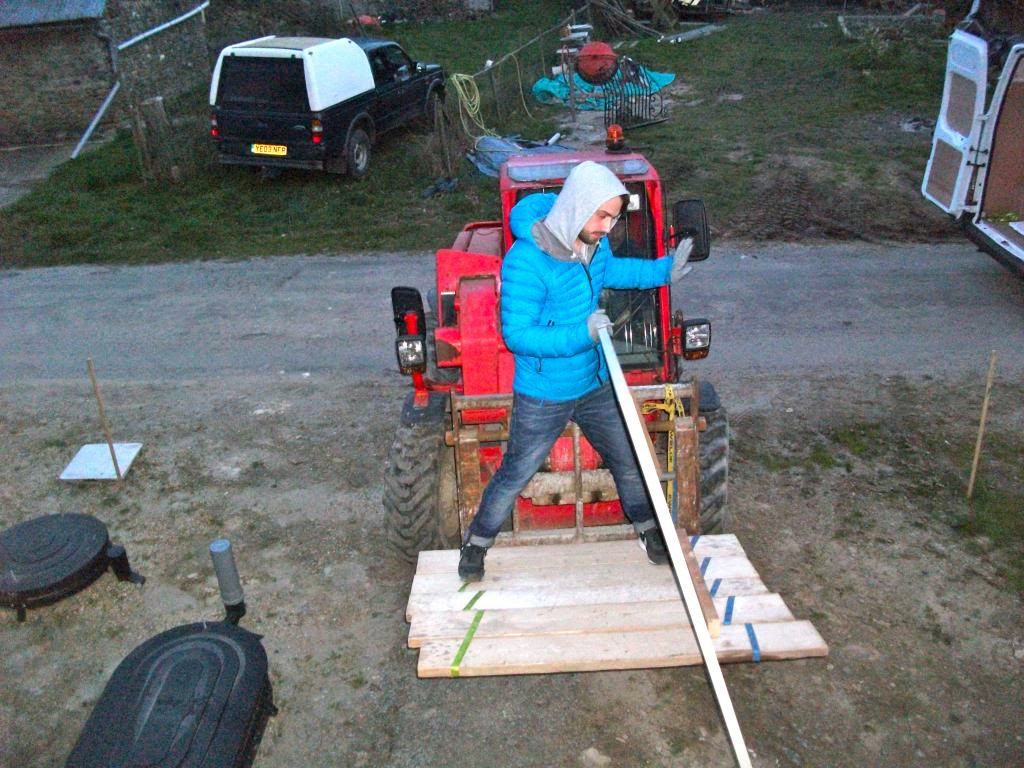 Once in the window I then had to park and get up the stairs to help slide it into the office room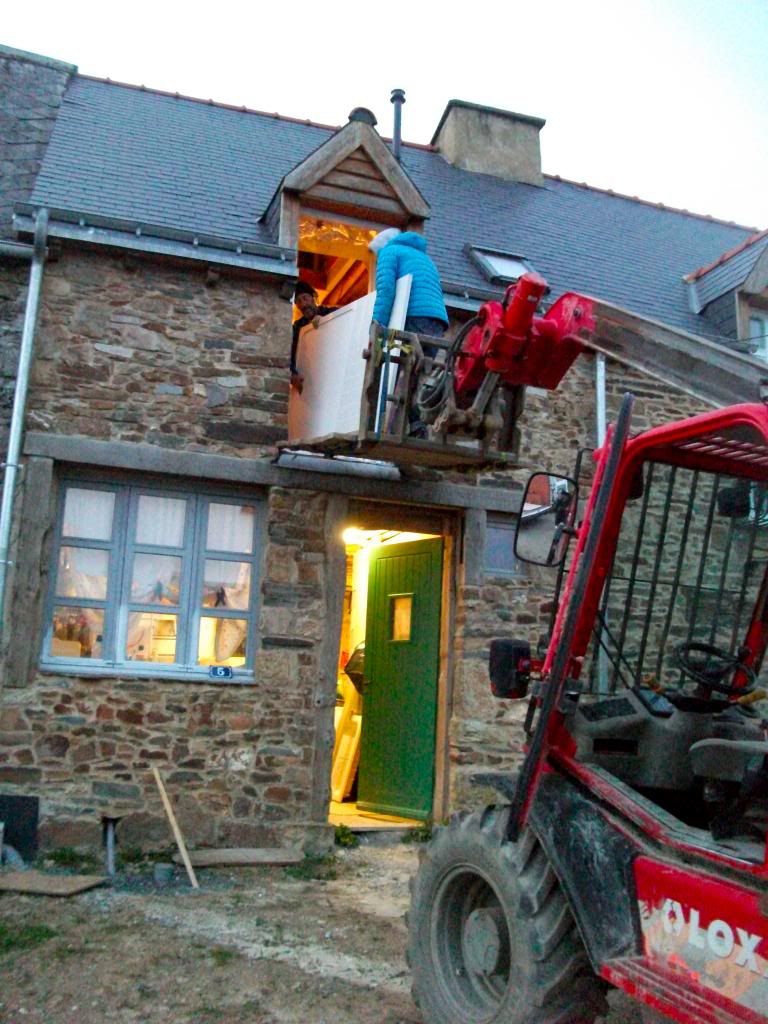 Then with the assistance of his girlfriend put the balcony back on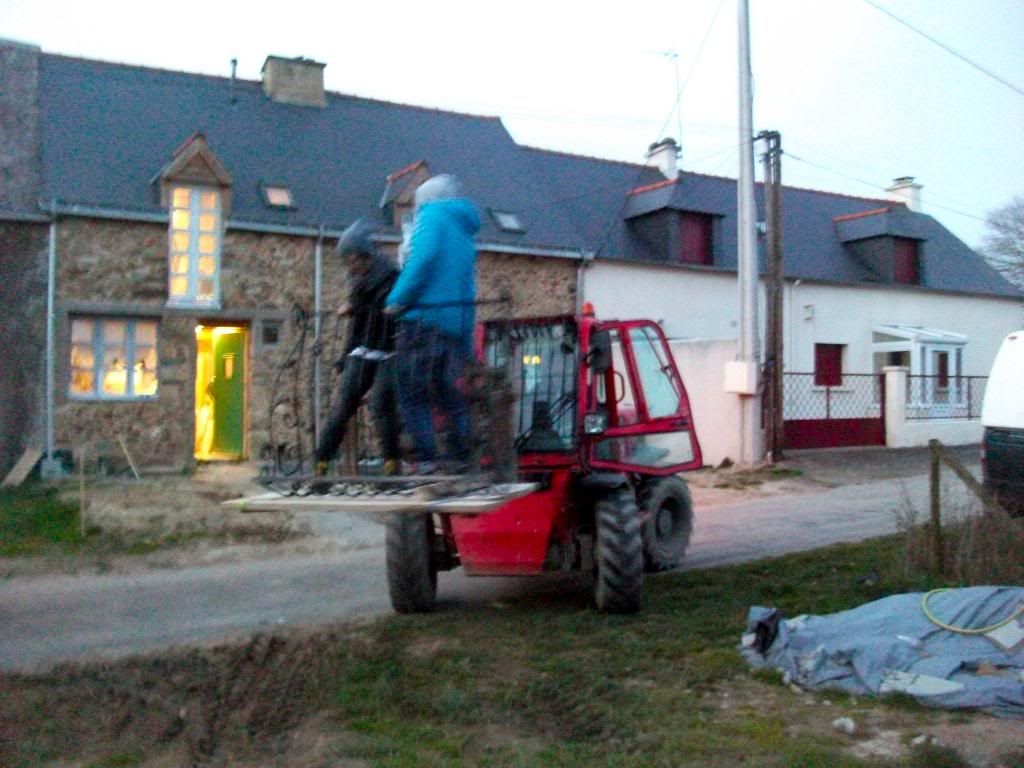 Then while MasterB and his lady had a joy ride around the village and farm tracks in the Manitu MrsB and I took a couple of shots of the tray at last in the bathroom and then made dinner.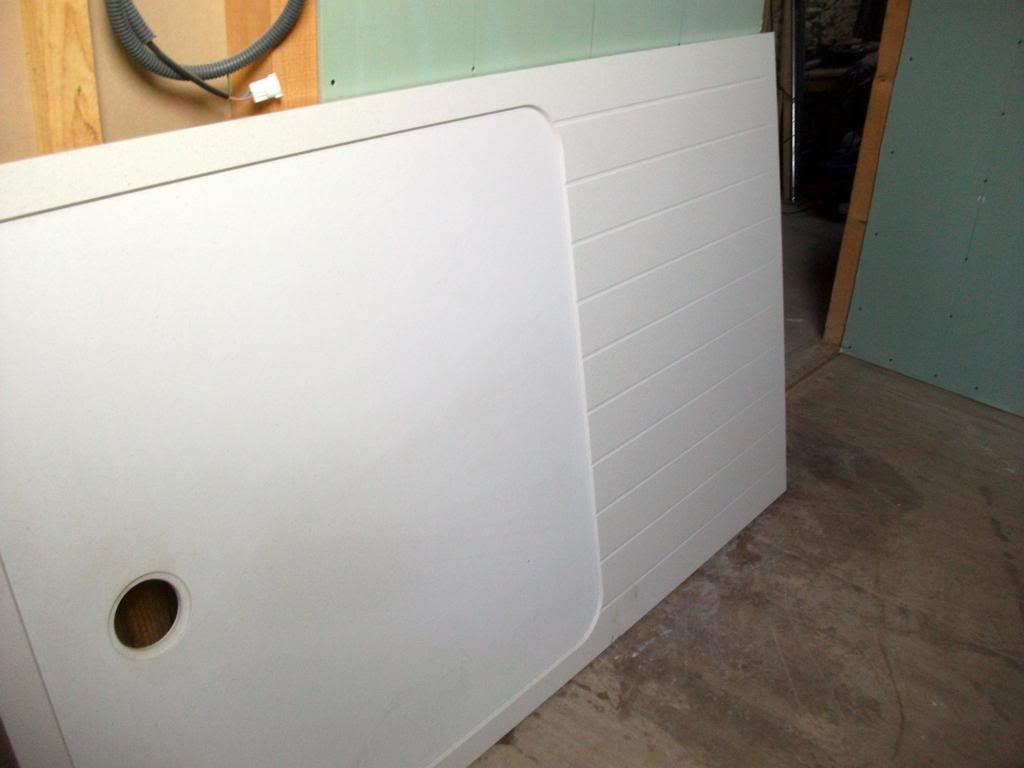 The photos don't really show the markings and colour in the stone however after its epic journey it is now just two meters away from where it will end up
Unfortunately the total cost now is getting on towards 2200 pounds (including transport and van hire and extra cabins and posh dinners etc) which some people will no doubt consider to be absolute fucking madness for a shower tray. Ho Hum. But please remember, it isn't your money we are spending.
Once we had decided that this project (when it came to the fittings) was not going to be one of those "scrimp and save" ghastly B&Q cheapo job, this sort of "extra" is just part of the deal, , we have to take it on the chin.
Although we don't have to justify it to anyone I will just say that we haven't spent all this time, effort and money to end up having to take a shower in a piddly little plastic thing shoved into the corner of the bathroom as an afterthought.
Suffice to say that we are well chuffed with the shower tray and are looking forward to the finished shower room.
Love and peace
BentleyX